Quality education begins with the best teachers.
Here at Crestar School of Dance, we are proud to officially present to you, our faculty of professional leaders and specialists. Through careful consideration and selection, they are brought together to ensure that every student of Crestar will enjoy and benefit from a dance education of unparalleled quality.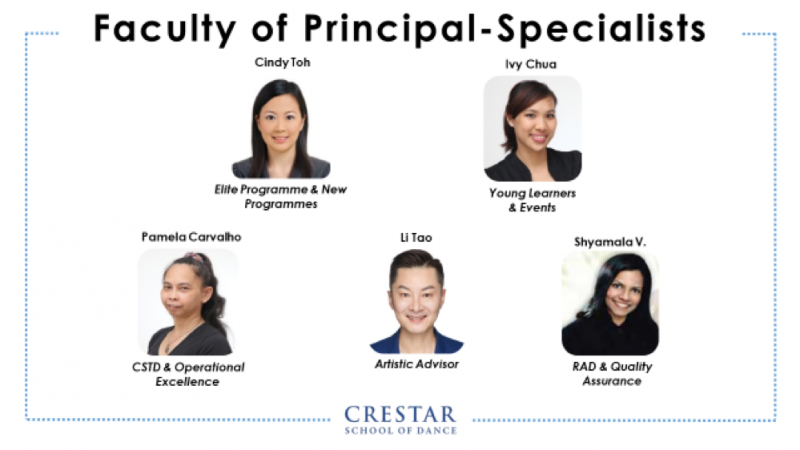 Ms Cindy Toh, Principal of Jurong East and Woodlands, Elite Programme & New Programmes Specialist
A highly-experienced and veteran dance teacher, Ms Toh will be coordinating Crestar's newly-inaugurated Elite Programme, where outstanding students are further groomed to become star performers. She will also be the creative brain behind all new programmes developed by Crestar.
Ms Ivy Chua, Principal of Marine Parade, Young Learners & Events Specialist
A highly-dedicated and experienced teacher, Ms Chua is one of the co-developers behind our newly-launched Creative Movement & Dance programme – a first in Singapore. She will be in-charge of all programmes for Young Learners, designing and improving all curriculum specifically for young children. Ms Chua will also be regularly charting out an exciting calendar of events for our students every year.
Ms Pamela Carvalho, Managing Principal of Toa Payoh, CSTD and Operational Excellence Specialist
A veteran dance teacher, Ms Carvalho will be in charge of setting operational standards for us to provide the best dance education experience to all students and parents. A Commonwealth Society of Teachers of Dancing (CSTD) Specialist, she will also be the driving force behind the School's quality CSTD curriculum deliverance.
Ms Shyamala Vhamathawan, Principal of Hougang and Tampines, RAD and Quality Assurance Specialist
A highly-experienced and veteran dance teacher, Ms Shyamala will be the keen eyes behind the School's dance education quality and excellence. A Royal Academy of Dance (RAD) Specialist, she will also be the driving force behind the School's delivery of quality RAD curriculum.
Mr Thomas Li Tao, Crestar School of Dance Artistic Advisor
Mr Li is a highly-credentialed mentor, accomplished dancer from the Singapore Dance Theatre, and the Artistic Director of the Crestar Ballet Academy in Beijing. Appointed as the Artistic Advisor, Mr Li will oversee the quality and excellence of our faculty of Principals and teachers, as well as all matters relating to the artistic delivery of our performances.
With our newly-formed Board of Principal-Specialists, we hope that every student of Crestar will experience a quality dance journey like no other.
To know more about our Faculty of Principals and Teachers, click here.