Chinese Speech & Drama Course (For children in Nursery school to K2)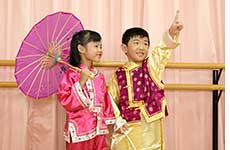 Speech & Drama is an excellent way to awaken your child' s interest in the Chinese language. Through interactive play-acting, students will be motivated to think and express themselves, consequently gaining confidence in their use of the language.
Foundation Programme N2 to K2
This is a 3-year programme geared towards establishing a sound foundation in Chinese Language. The focus is on recognition of Chinese characters and confident expression of the language.
'Hanyu Pinyin' is taught throughout the year to prepare K2 students for Primary 1, with an optional 6-week intensive course (on request by parents) to help children master the subject.
An intensive 'Hanyu Pinyin' course is also conducted for parents of K2 students so that they can also coach their children.
Assessment of Learning Outcomes:
Regular 'Show and Tell' sessions to encourage confident expression
'Mini-concerts' after completion of each unit to allow parents to observe and participate in their children's learning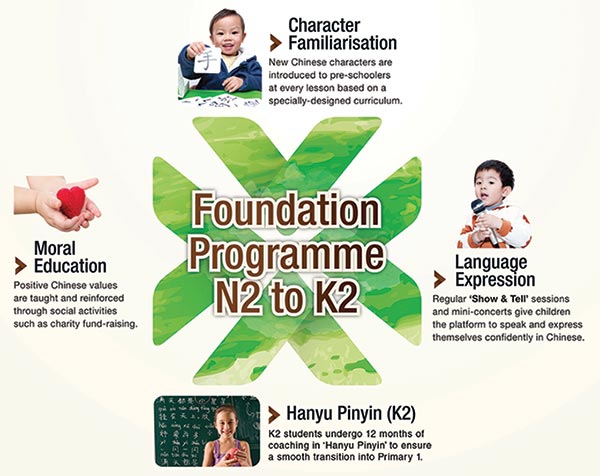 Enrichment Programme: Primary to Secondary
This level-appropriate curriculum covers the entire school syllabus. The focus is to cultivate strong interest in learning Chinese and strengthen application of the Chinese language. We adopt a unique approach to impact current affairs knowledge and hone critical thinking in 'hot topics' regularly featured in school examinations. At secondary level, weekly writing sessions are held for students to discuss and expound their opinions.
Classes are divided into varying level of difficulty within each standard.
Assessment of Learning Outcomes:
Weekly writing sessions to assess students' analytical and writing skills
Mock tests to prepare students for school examination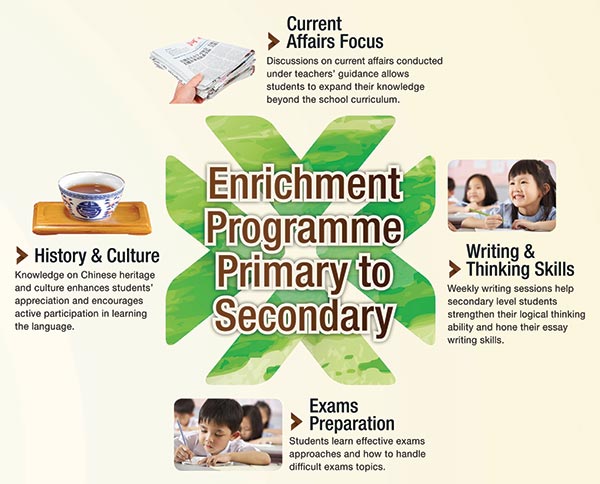 P1 & P2 Oral Programme:
2-year duration; designed to strengthen vocabulary, oral and composition-writing skills.
P3 – P6 Composition and Comprehension Programme:
Build on composition writing skills learnt in the Oral Programme. Advance comprehension and composition skills and widen vocabulary range