ArtMazing Review by The New Age Parents
If you think that childhood engagement in the creative arts has no use in success later in life, you might want to think again. Researchers from the Michigan State University have found that children who were exposed to a wide variety of arts and crafts were better able to think "out of the box". They were more likely to create unique inventions worthy of patents, brainstorm smart ideas or publish provocative papers on science and technol-ogy. Stronger critical skills, higher levels of social tolerance, greater empathy; the benefits of early art exposure goes on.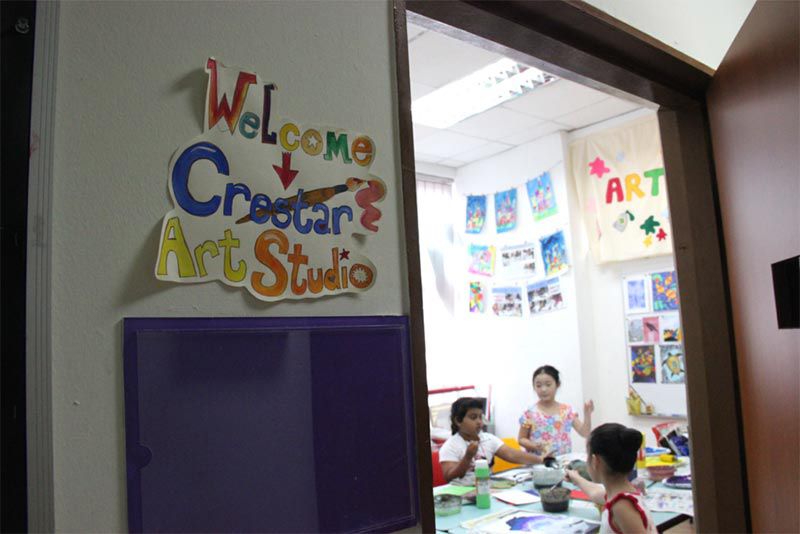 Be ArtMazed
A structured art programme designed to develop proper techniques and skills, ArtMazing programmes offers various levels of art for children age 4 to 17 years old. An interdisci-plinary approach that infuses school academic subjects into art, children don't just learn about art during classes, they also learn about other subjects while experimenting with colours and patterns.
We took a peek at what went on during an ArtMazing (Elementary II) level class.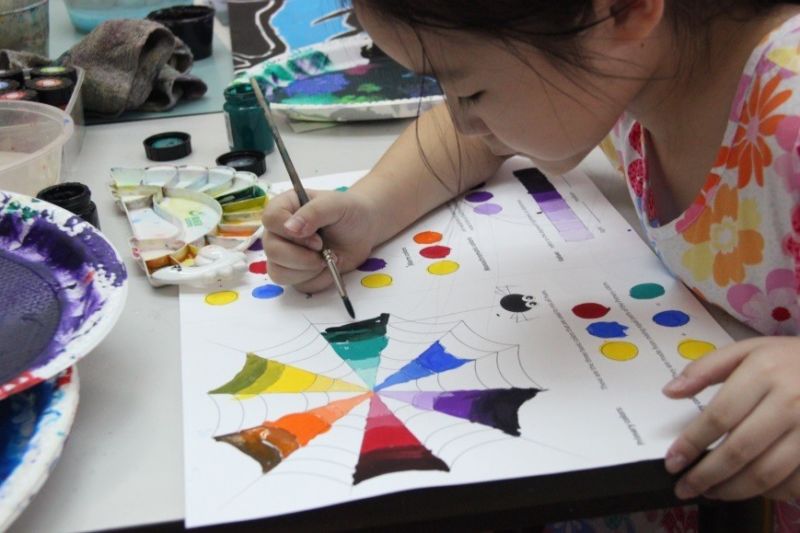 Colour me up: What is a primary colour? What colours do you need to add to the prima-ry colour in order to get a lighter shade? "For first time students, we first work on the colour wheel to help them have an overall understanding of how colours work," shares Teacher Anh. After this activity, children will have a better understanding of colours, which will help them to make better aesthetics choices in their upcoming master pieces and the ability to master colour blending skills.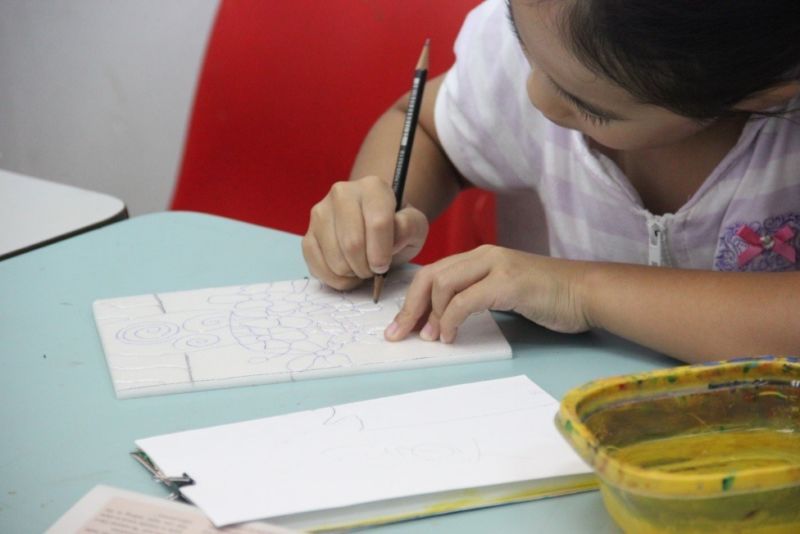 This lesson is inspired by one of the famous art movements, POP Art. In the first lesson, students are introduced to all the essential information about this art movement such as its famous artist, its subject matters and special characteristics.
'Foam' blocking: Woodblock printing is a technique used for printing text, images or pat-terns. Instead of wood, students 'carve' their drawings on a foam board with pencils. They first draw the pattern they desire on a piece of tracing paper, which they later use to trace onto their foam.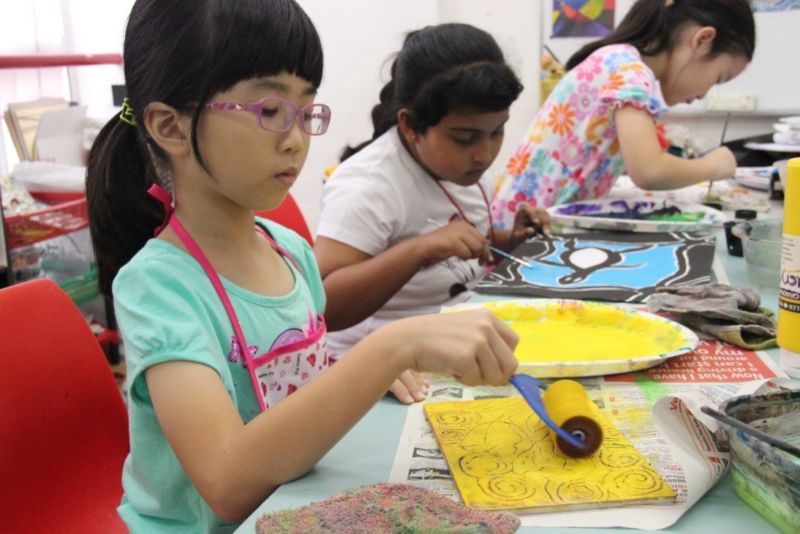 Once their foams are all 'carved' and deep enough, they paint the board with a roller. Dur-ing this stage, the students use trial and error to find out what is the best paint consisten-cy to roll onto the foam. If it's too wet, the paint will not stay. If it's too thick, their papers might stick with the foam, thus it causes damage to the papers when students try to take them out.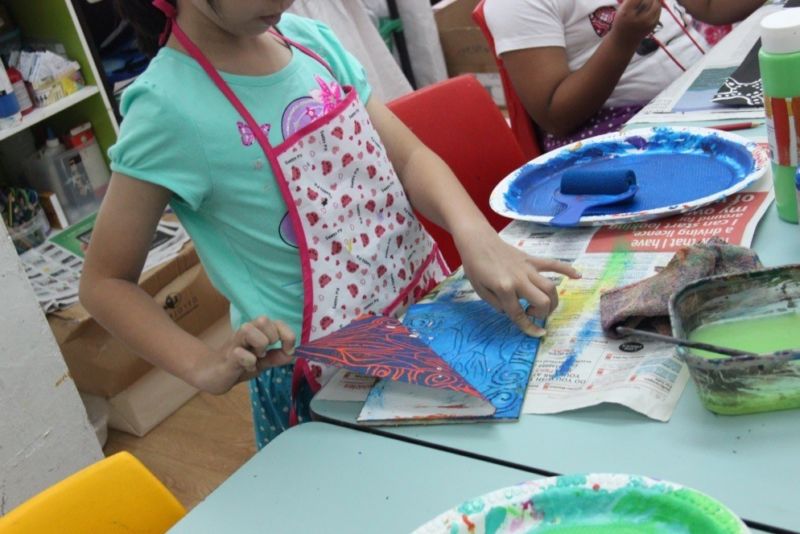 Next, they 'print' their design on a coloured background. Each of them will have to print a total of eight different prints with a variety of colour combinations. Out of the eight de-signs, six of the designs have to be accompanied by a complementary background colour.
For every pair of complementary colour, the students have 2 papers to print on, for ex-ample a paper with blue background and another one with orange background. This helps students to learn a fact that some colours are darker or lighter than others, and that in order to get a good effect for the print, they should use the darker colour to print on the background with lighter colour.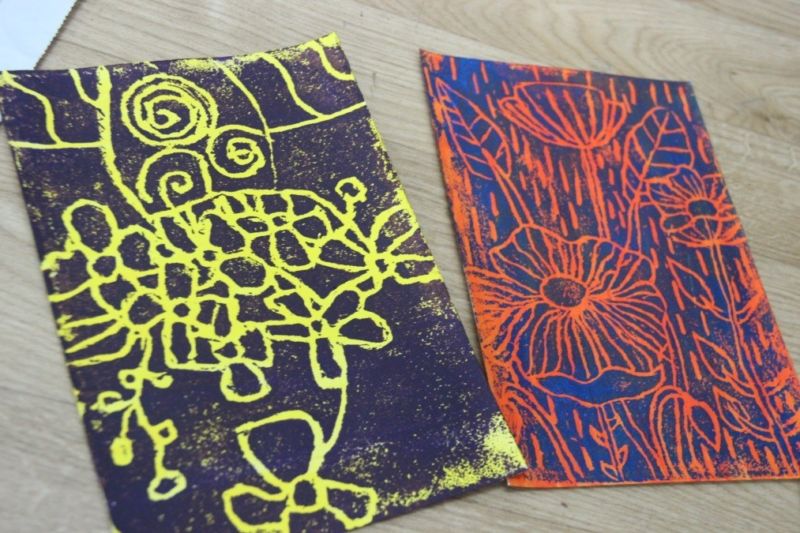 For instance, if they used blue on their board, they would have to use orange as their background colour (orange is the complementary colour of blue).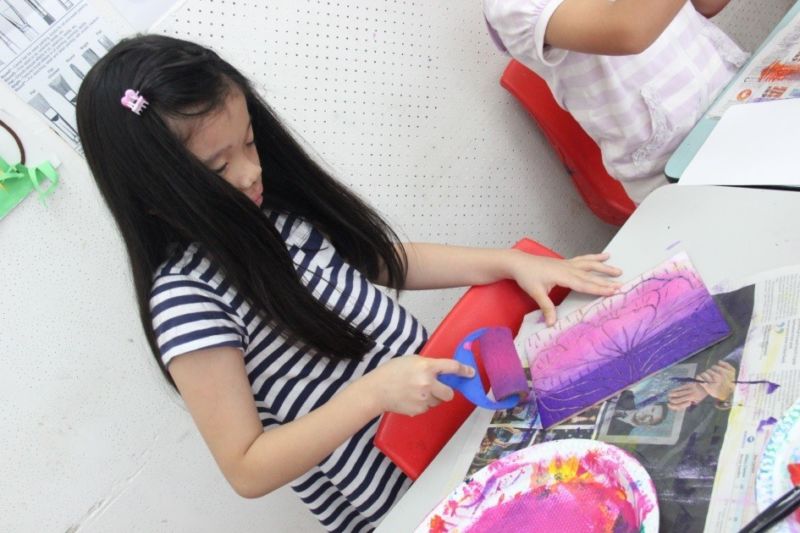 The other two designs include a single solid coloured print on a white background, and a print with varying shades but of the same colour tone. This helps students to understand the concept of complementary colours at a deeper level. 9 year old Kaelyn mixed her own colours to get the varying shades of pink and purple.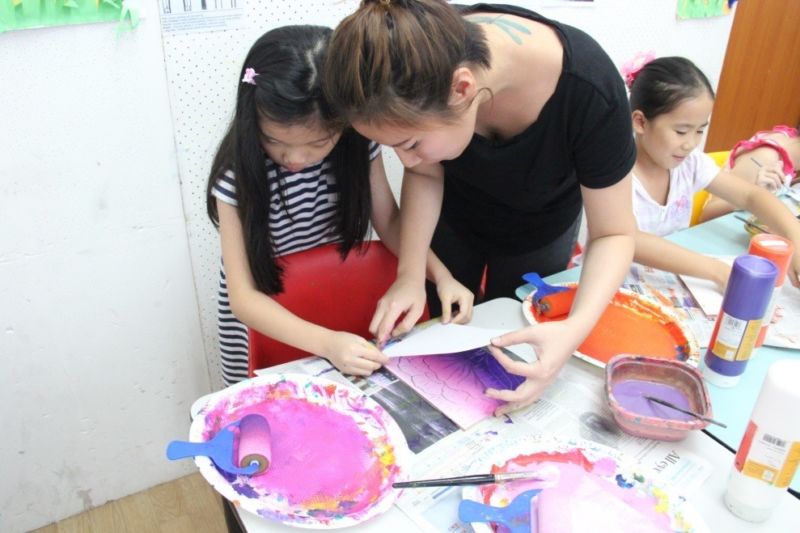 Teacher Anh guides each child as they progress in their work. Anh, who graduated from Lasalle College of the Arts, was encouraging throughout the class and gave room for each child space to try and learn on their own pace; even if this meant they made mistakes. When one of the girl's paper got stuck onto her foam board, causing the print to be dam-aged, Teacher Anh told her it was okay and to try again because "we all learn from making mistakes."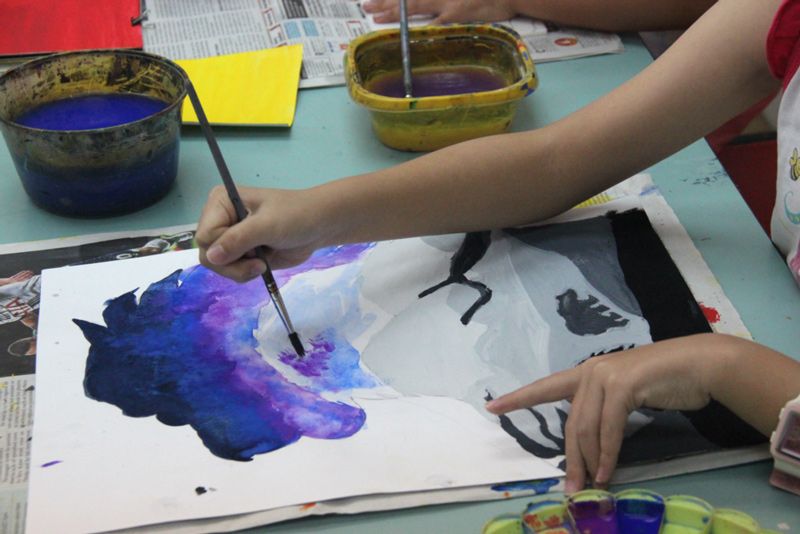 Wet-on-wet technique: In this piece, children experiment with water colours, creating shades of dark purple and blue at the top of the picture, slowly graduating to the lighter cooler shades. Here, 9 year old Jie Ying realises that she needed to use more water and less paint to get a lighter shade.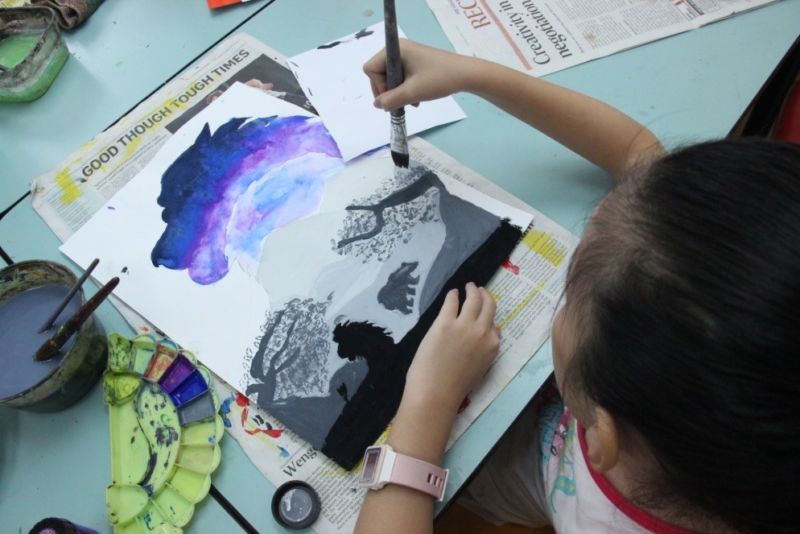 Once she is satisfied with her toning, she moves on the backdrop, and adds more details to the landscape, such as leaves on the tree and the grass.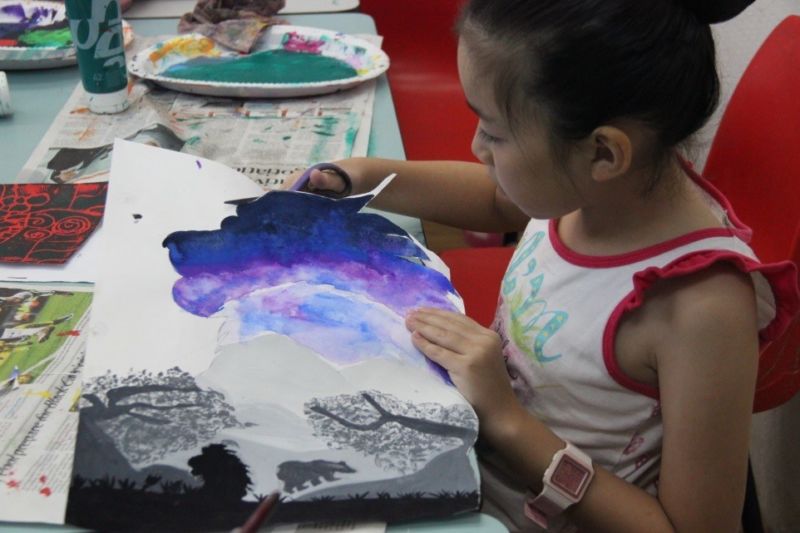 After painting the details, it's time to cut it up to place it against a black background.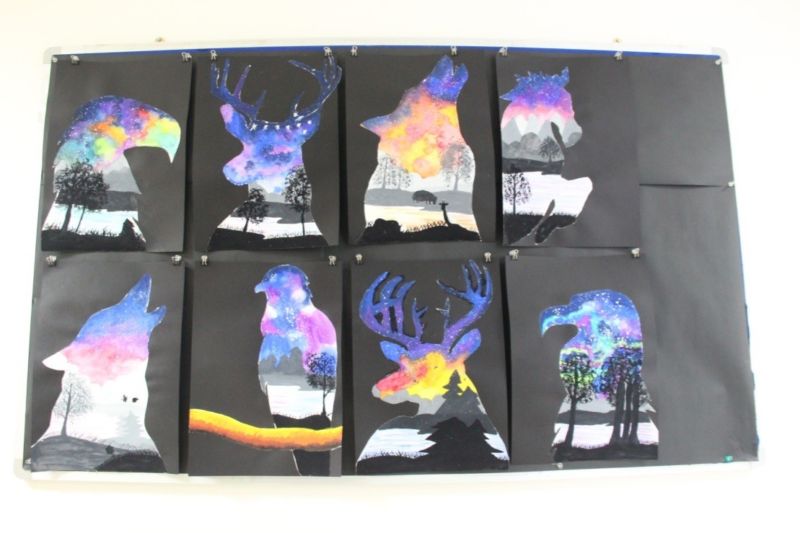 And a new masterpiece is ready to be framed! Teacher Anh shares each artwork takes about two to three lessons to complete.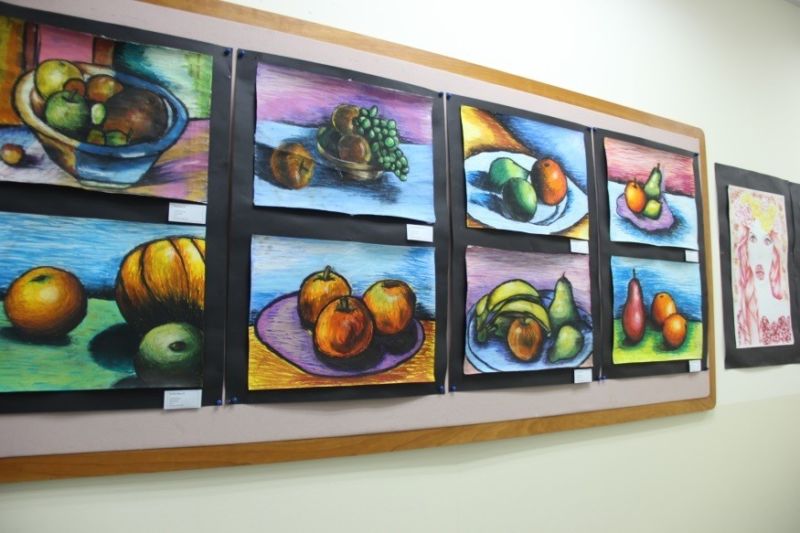 Students' artwork at Crestar Learning Centre, Hougang.
Beginner (4 years old)
Focus: Developing child's psychomotor skills
– Children learn to draw
– Explore various mediums such as oil pastel, colour pencils, poster colour, water colour and crafts
Elementary I (5 – 6 years)
Focus: Exposure to various art mediums
– Water colour, tempera and acrylic painting,
– Identifying colours in a colour wheel
– 2D relief and crafts
Elementary II (7 – 9 years)
Focus: Cognitive skills and understanding of art
– Drawing and sketching with tones (from light to dark)
– Water colour and colour pencil technique
– Acrylic painting
– Colour scheme analysis, able to know what are complementary colour
– 3D Art such as clay modelling and paper sculpture
– Printmaking
Intermediate I (9 – 11 years)
– Drawing and sketching
– Painting (various kinds of paint such as water-colour, acrylic, poster paint with to-nal value)
– 2D relief art and 3D art
– Explore different kinds of art
Intermediate II (11 – 13 years)
– Basic drawing knowledge (contour, cross contour drawing, perspective, etc)
– Sketching
– Painting with various kinds of paint
– 3D art
– Explore different kinds of art
Advanced I (13 – 15 years)
– Drawing and sketching (still life, animal, etc)
– Painting
– Elements and principles of Art and Design
– 3D art
– Explore different kinds of art
Advanced II (15 – 17 years)
– Drawing and sketching (still life, animal, etc)
– Painting
– 3D art
– Explore different kinds of art
ArtMazing Course duration: 1 year per level
Lesson duration: 60 – 90 minutes
Fee per term: $280.90 onwards
Besides the above Beginner and Elementary classes, Crestar also offers modular Courses such as Felt Craft, 3D Paper Diorama, Paper Relief, Paper Sculpture, Mosaic Art.
Build a strong foundation and foster your child's artistic potential with Crestar Learning Centre ArtMazing programme. Find out more about the classes at the Crestar Learning centre nearest to you.
Crestar Learning Centres
Marine Parade
Blk 87 Marine Parade Central #04-301 Singapore 440087
Tel: 6344 4588
Thomson Plaza
301 Upper Thomson Road #03-24A Singapore 574408
Tel: 6553 6450
Jurong East
Blk 135 Jurong Gateway Road #03-341 Singapore 600135
Tel: 6560 9997
Tampines Abacus Plaza
3 Tampines Central 1 #04-02 Singapore 529540
Tel: 6782 8822
Woodlands
Woodlands Civic Centre, 900 South Woodlands Drive #05-03 Singapore 730900
Tel: 6892 8892
Woodlands Mart
Blk 768 Woodlands Ave 6 #02-01 Singapore 730768
Tel: 6365 0010
Hougang
Blk 202 Hougang Street 21 #03-00 Singapore 530202
Tel: 6287 6385
Jurong East
Blk 135 Jurong Gateway Road #03-341 Singapore 600135
Tel: 6560 9997
Email: [email protected]
Website: www.crestar.com.sg
Photos Credit and Content Author: The New Age Parents.