DANCING TOTS (For ages 2.5- 3years)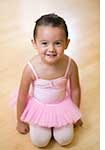 Learn the use of arms, use of space, pointing feet, sense of rhythm and musicality as your child immerses in the enjoyment of dance through children's favourite songs.
BEBE BALLET (For ages 3- 4years)
Poise, grace, balance and confidence. These are just some of the numerous benefits your child will gain from Bebe Ballet. Through familiar nursery rhyme tune as well as catchy rhythms and melodies, your child will pick up basic dance steps and movements in no time!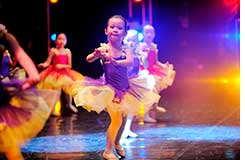 All our classes are conducted in a fun-filled and lively environment, so your child will learn mind and body coordination quickly and easily. Every dance exercise incorporates interesting themes to capture the imagination and encourages the participant's own unique sense of expression.
Crestar's Bebe Ballet course instills a sense of discipline and achievement that is important in every growing child's life. All our exercises are designed to give your child the best dance foundation necessary to proceed confidently to the next level of ballet.
CLASSICAL BALLET (For ages 4 years & above)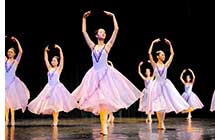 This graceful dance form will groom your child into a confident and polished ballet dancer. Our Classical Ballet training will develop his/her sense of rhythm and creativity. Crestar's instructors are experienced and qualified, with accreditation from respected institutions. Your child will learn from the best, right from the start.
Students are also encouraged to undertake examinations from internationally recognised dance examinations bodies such as Commonwealth Society of Teachers of Dancing (CSTD), Australia and Royal Academy of Dance (RAD), United Kingdom.
MODERN JAZZ (For ages 4.5 years & above)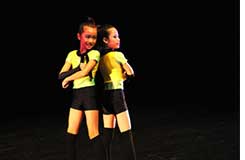 Modern Jazz is often danced to pop and mtv music. It combines the fluid movements of modern and technique of jazz and ballet. It incorporates the technical aspects of a variety of popular and street music, using the body as an instrument to interpret the various styles. The dance emphasize on stretching and strengthening while at the same time improving flexibility, co-ordination and speed. Modern Jazz comprises of variety of turns, jumps, kicks, and traveling steps as well as rhythm and expression to develop a confident performance style.
Students are also encouraged to undertake examinations from internationally recognised dance examinations bodies such as Commonwealth Society of Teachers of Dancing (CSTD), Australia.
STREET JAZZ (For ages 9 years & above / Adult classes)
Street Jazz is a type of Street Dance. The dance has mixture of fast arms and foot movements, graceful spins and vigorous floor movements. There are no fix steps and dancers move freely to different sets of choreography. The dance develops with different music and is always under persistent growth.
HIP HOP (For ages 9 years and above/ Adult classes)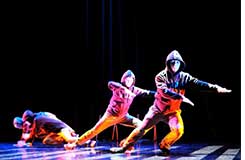 Hip Hop is categorised under the group, Street Dance. It is an open style dance where dancers dance to hottest R&B, Pop and Hip Hop. It has high energy dance movement as seen in music videos and dance clips. It combines and emphasizes gliding, jerking, freezing and acute movements.
MODERN THEATRE (For Ages 5 Years and Above)
Modern Theatre dance is a rhythmic dance style which originated in America before travelling to the rest of the world. It is often seen on the stages of musical productions and is known for its theatrical qualities. The style uses travelling steps, high kicks, leaps and turns which all need strength and flexibility. This is a highly energetic dance style.
CHINESE DANCE (For Ages 4 Years and Above)
The Beijing Dance Academy (BDA) Chinese Dance promotes understanding and appreciation of songs and dances, to foster a love for Chinese dances art. The course syllabus is divided into 13 levels for students from preschool, elementary school children and youth dancers. It is specially designed for students and dance teachers who can prepare for the BDA grade examination and certification.
CONTEMPORARY DANCE (For Ages 10 Years and Above)
Contemporary dance combines modern dance elements and the classical ballet elements in an abstract and interpretative presentation. Using multiple and simultaneous actions, it communicates emotions to the observer.
BELLY DANCING COURSE (For Ages 5 Years and Adults)
Belly dance is a gentle form of dance that is enjoyed by everyone. It is also be a low impact exercise that is beneficial for ladies of all ages and from all walks of life. Belly dance also helps students to improve their posture and muscle toning as well as to express themselves with props such as veil for challenging choreography and techniques.
Rhythmic Gymnastics (For Age 4 – 12 years old)
Crestar School of Dance collaborates with JACPA, a leading children's sport education organisation in Japan to bring in a course – Rhythmic Gymnastics. Rhythmic Gymnastics is a combination of ballet, gymnastics, dance and apparatus manipulation. It uses ribbons, balls and clubs coupled with very artistic and fluid gymnastic movement to create a beautiful choreographed routine. The classes focus not only on the physical techniques but also on the personal expression skills.